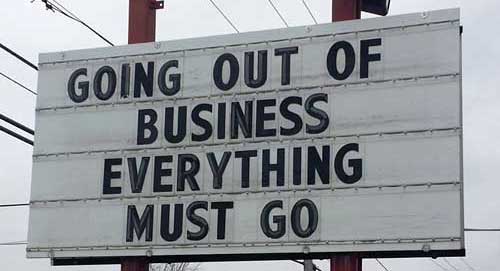 STOREWIDE SALE! OUR FINAL DAY IS FEB. 3rd, 2019. ALL SALES FINAL! NO RETURNS, REFUNDS, OR EXCHANGES ON ANY MERCHANDISE.
75% OFF MANY COMIC BOOK BACK ISSUES PRICED UNDER $4.00! THOSE $4.00 AND OVER ARE 50% OFF!
50% OFF ALL FUNKO POP FIGURES PRICED UNDER $15.00! THOSE PRICED $15.00 AND OVER ARE 30% OFF!
60% OFF ALL OTHER NON-FUNKO TOYS & STATUES PRICED UNDER $50.00! TOYS & STATUES PRICED $50.00 & OVER ARE 30% OFF!
60% OFF ALL TRADES, GRAPHIC NOVELS, & HARDCOVERS UNDER $35.00! THOSE PRICED $35.00 AND OVER ARE 30% OFF!
REMAINING INVENTORY ON ALL USED CDS NOW 25¢ EACH!
REMAINING INVENTORY ON ALL VINYL RECORDS NOW 75% OFF!
20% OFF ALL COMIC SUPPLIES AND RECORD SUPPLIES!
ALL NEW SEALED CDs, POSTERS, MAGAZINES, AND MANY OTHER MISCELLANEOUS THINGS WILL BE 60% OFF!
(PLEASE NOTE: New comics are NOT on sale. For each of these categories, we may get in a new collection of stuff, or a few new items that may be excluded from the sale, and will be marked as excluded from this sale. Items cannot be put on hold. Any items on hold are not eligible for the sale. Any special orders placed before or during the sale will not be eligible for the sale discount. This sale cannot be combined with ANY other coupon or discount, including the comics subscription discount.)
The owner, Jeff has decided to close down The Record Store at this time. He has been involved with the music business now for over 45 years. The Record Store did start out as a record store in Howell, 30 years ago. He has seen many ups as well as many downs but he has stuck with it all this time. However, in the last few years he has found his enthusiasm waning and more importantly, his heart has just not been in the business anymore.
Turning 60 this year he felt that given this may be the final chapter in his life, wanted to explore other adventures and opportunities.
So he felt it was best to close up shop. Our final day is scheduled for February 3, 2019. We will continue to have new comic releases up to and including the week of January 23rd, 2019.
---
REGARDING GIFT CERTIFICATES:
Before you purchase a gift certificate, you need to understand that we are closing, and our last day is February 3, 2019. So, you need to let whoever you give the gift certificate know that they MUST use it before February 3, 2019. The going out of business sale will be a very good deal so using the certificate in January would be a great gift.. BUT you must stress to them that they HAVE TO USE IT by February 3, 2019.
If you currently have a gift certificate or credit slip from us, please try to use it before our closing date. If you do not want to use it for merchandise, we will be willing to purchase back the certificate for face value, but you MUST bring in the certificate or credit issued slip in order to redeem it.
---
NEW COMICS:
We will continue to stock new comic releases every week, up to and including the new comics that come out on January 23rd, 2019. If you have a comic subscription box, and have not been in the store for a while, please come in to purchase your books. If you have not been in for more than 2 months to purchase your books, pulling has been stopped, as per the sheet when you signed up for subscription